Homeless boost with Woolly Hat Day in Balsall Common
Our chosen general cause for 2018, here at Balsall Common Dental Practice, is supporting homeless causes.  Our first step towards this is in January supporting Woolly Hat Day, an annual campaign created by homeless Charity St Mungos. Woolly Hat Day in 2018 is scheduled to take place on Friday 26 January 2018.
The practical side of the campaign involves collecting hats and gloves for distribution to the homeless during the cold winter months, but importantly, also performs a role in highlighting the widespread homelessness that is scandalously spiralling out of control here in the UK.
Woolly Hat Day in Balsall Common
As part of our support for Woolly Hat Day we are:
* Acting as a collection point for woolly hats to be passed to the homeless
* Operating a fundraising mobile photo booth at the practice and adjacent shops
* Raising awareness for the national homeless problem during the cold post-Christmas Winter period via out website and via social media
We chose to support St Mungo's Woolly Hat campaign, partly because it's a fun and rewarding way to support the cause, but also because of the Charity's inspirational aim of putting an end homelessness and rebuilding lives affected by it.
Discover St Mungo's – Helping the Homeless
Get Involved – Bring us Your Woolly Hats!
We are acting as a collection point for woolly hats for the homeless. Bring us your spare hats, or buy a few for the cause. We'll gratefully accept your contributions so we can help the homeless stave off the cold.
Deliver your Woolly Hats to Balsall Common Dental Practice at:
201 Station Road
Balsall Common
Near Coventry
CV7 7FD
Help Raise Awareness – Get into Our Photo Booth and We'll Donate Money
Visit our premises during opening hours and for anyone who allows us to shoot them in our mobile photo booth for publication online, we will donate £3 for each one to the cause.
Woolly Hat Day – March 2017 Update – Thanks!
We are grateful to everybody that supported our Woolly Hat Day activities. We collected 47 hats and 2 pairs of gloves for the homeless and donated £3 for every Woolly Hat photo captured and published online. We also received an additional voluntary donation of £10 from the wonderful team at Shane Collins Hair Salon, complete with a photo of the beautiful Lesley.  We also received a certificate of thanks from homeless Charity St Mungos: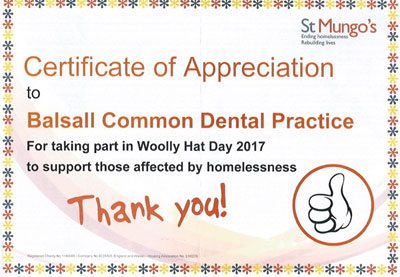 Thanks to our Customers and Local Businesses
Thanks to all our customers for being such great sports on Woolly Hat Day in posing for the camera and to all the following local businesses for getting involved too:
Shane Collins Hair Salon (including an additional voluntary £10 donation)
The Tanning Boutique
Select
Balsall Fish Bar
Angela Jaynes Florist
Balsall Common Pharmacy
Helping the Homeless – What's Next?
Whilst pressure on the Government is increasing to tackle widespread homelessness in the UK, it's clear the problem will take time to resolve.  Our team has been discussing how we might contribute meaningful work for quite some time.  As a result of these deliberations, we are exploring options for partnering with a homeless charity so we can provide dental expertise to members of the homeless community.  This activity has proven less straightforward than we hoped, but we are determined to free up members of our team to lend their expertise and look forward to reporting further as the story unfolds.
Get involved with #WoollyHatDay on Twitter
Get involved with Woolly Hat Day on Twitter using the hashtag #WoollyHatDay on Friday 27th January 2017.
Find and Follow St Mungo's Online
Discover more about St Mungo's on their comprehensive and informative website: