2015: Reflections from a busy Dental Practice
Looking back on 2015 it's been an incredibly busy year for everyone at Balsall Common Dental Practice, what with aiming to provide the best service, updating our skills and working harder than ever to get our health message out to our community and world at large.
One area where we've made significant progress has been the extension of our health education message, beyond existing patients and local schools, which we love doing, outwards into the digital world. Our revamped website has been accompanied by new forays into social media, plus introduction of an eNews service.
Our Team
Our in-house explosives expert Amy Baker passed her Dental Nursing Exam and also embarked on her radiography course with team-mate Kirsty Buckley. Kaylee Swift secured her Practice Manager's NVQ, to further boost our fine Management Team.
Practice News
In addition to our new-look website we revamped our logo. We expanded our digital presence beyond our website into Facebook and Twitter too. Our LinkedIn presence is now in place, currently dormant, but ready for action in the new year, with more channels to follow.
Our eNews Launch
We have just launched our eNews for patients, but thanks to the wide-ranging content we intend sharing, welcome new subscribers from beyond our client-base too.
We had a Little Fun on the Way Too
Dentistry is a passion for us, but it's also a serious business. We recognise the journey to the dentists can be daunting and starts in the mind for many, long before they arrive through our doors. To give the best of ourselves daily and to maintain our team's remarkable ability for putting customers at ease, we encourage a little fun and laughter. After all, a happy environment can work wonders for nervous patients.
So with this in mind we identified our 'fun-da-mentals for 2015', with some organised fun. Earlier this year our team dressed up as pirates for a canal trip together, we dressed up again for the day on Halloween, then followed this with our Christmas trip to London to see La Soiree. We don't aim to scare patients normally, but Halloween gave us an excuse to do so, just for fun!
Keep up with us through 2016 via Social Media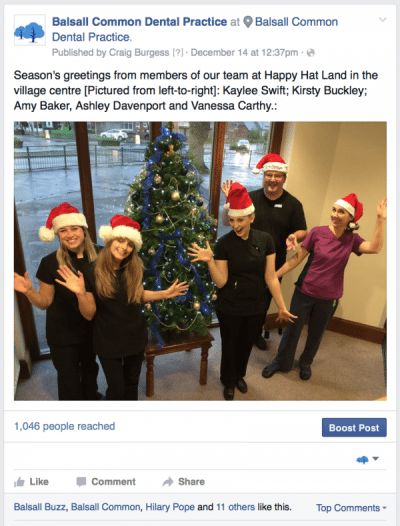 Find us. like us and get notifications from us on Facebook, just click on our Festive Facebook post pictured here to visit our page.