How Twitter got us Walking Home for Christmas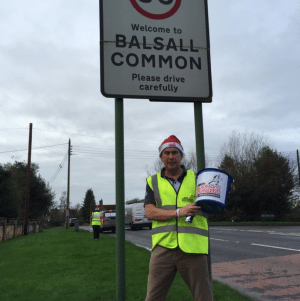 Whilst we're relatively new to Twitter, we're already finding the online conversation leading to an interesting mixture of 'real-world' experiences.   Last week, for example, we found ourselves drawn towards the armed forces inspired Walking with the Wounded project, specifically in connection with their Walking Home for Christmas* campaign.
We discovered ex- RAF Police officer Simon Johnson was planning to walk 26 miles home from work in Coventry as part of the campaign to help homeless ex-servicemen.
Knowing Simon's route would take him by our Practice in Balsall Common, on his way home to Sutton Coldfield, we had no hesitation in offering Simon and his support crew a pit stop for tea and mince pies along the way.
Simon set off from work in Coventry at 10am on Friday 18th December (2015), to be greeted by our team just after 10:30am, to the sounds of charity single, 'I'm Gonna Be (500 miles)', by the Military Wives Choir.  After a quick cup of tea and a mince pie, Simon and crew were off to their next stop at Birmingham Airport.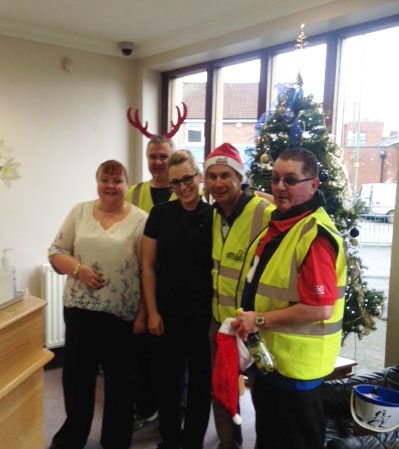 Simon completed his 26 mile route by early evening, even allowing for some unintentional diversions which actually saw him cover 27 miles.  Simon finished his trip off with a well-earned pint before putting his feet up, with the satisfaction of clearing his Just Giving fundraising target of £1500 by a handsome margin, with a figure, at the time of writing, of £2331.81.
Well-done Simon!  And lastly, for anyone wishing to help homeless servicemen this Christmas, why not lend a hand via Simon's Walking Home for Christmas Just Giving page.
You can also follow Simon on Twitter via @WH4X_15 and follow us on Twitter via @BalsallDental
* The Walking Home for Christmas campaign is an initiative by the Walking with the Wounded action group.  Their overall aim is to support the reintegration of injured ex-servicemen into civilian life, something that's often easier said than done, given the many forms of injury, both seen and unseen.  These injuries range from the obvious handicaps caused by physical injury, to mental illness and trauma-based conditions such as post-traumatic stress.
Article published: 21st December 2015