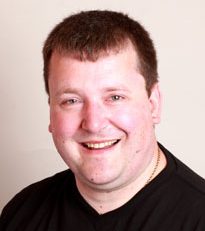 BDS MFGDP(UK)
GDC registration number: 70884
I qualified as a dentist in 1995 and can honestly say that I have been doing a job that I love for the past 22 years. Most people who know me well know that dentistry is a passion for me and that if I won the lottery I would still want to have some dentistry in my life. I get huge satisfaction from treating patients and making a difference to their smile, their health and their confidence.
I live at home with my wife Cathy, two boys, two dogs, two cats and my other great love…..20 odd chickens. My boys keep the chickens which they run as a small business selling eggs but nothing cheers me up in the morning like seeing those feathery chickens run towards the fence to greet you. It never fails to make me laugh. (My wife and children say they know where they come in the pecking order by the way)! When I'm not in the surgery I like to be in the garden with my chainsaw or cheering my boys on, on the rugby pitch.