Who is Dr Ash?
This article was inspired by the advertisement we ran in the local Bugle Magazine to share a little of our founder Dr Ashley Davenport's story and philosophy as a dentist.  The first thing of note is that Dr Ashley Davenport loves dentistry:
"I qualified as a dentist in 1995 and can honestly say that I have been doing a job that I love for nearly 25 years" explains Ashley.
"Most people who know me well know that dentistry is a passion for me and that if I won the lottery I would still want to have some dentistry in my life."
Ashley's Story
From a relatively young age whilst attending Balsall Common's Heart of England School, Ashley's interest in biology offered him some early ideas about going into medicine when he was older, although it's true to say dentistry wasn't on his radar at first.
"It wasn't until I enjoyed a work experience placement that I realised dentistry was a good fit for the way my brain worked.  It's a running joke within the family that I've blown one particular family tradition by failing to follow in my father and grandfather's footsteps into engineering.  But more recently it's actually dawned on me that aspects of my work, especially within advanced dentistry, present similar challenges and require similar lines of thinking."
"After that initial work experience there were family members who encouraged me to continue thinking about medicine over dentistry, but the more I discovered about the different career paths, the more I realised private dentistry would offer greater freedom of control over my personal development, career path and business goals."
"Since that time my passion for dentistry has continuously evolved and grown over many years."
Dr Davenport's Friendly Dentistry Philosophy
If you have seen our recent advert in the Summer Edition of The Bugle Magazine you will have gleaned a brief summary of Ashley's friendly dentistry philosophy as follows:
We won't hurt you
We won't rush you
We won't tell you off
You're in charge
We aim to put you in control by presenting every available option after which the decision is yours, no obligation, no pressure. We won't coerce you into solutions you cannot afford and will support you fully whatever decision you make.  It also means we will stop at any time with any procedure with which you don't feel entirely happy which even goes as far as agreeing to hand signals you can use in those moments during which you're unable to speak.
Education and Prevention Comes First
Dr Ashley is also passionate about helping patients adopt a health-first approach, with education and prevention at the heart of oral healthcare at the practice, starting from the youngest possible age, with child-friendly dentistry and a team of hygienists available to help patients adopt healthy regimens.
Collaborative Dentistry – Putting Nervous Patients in Control
By operating as a private dentist we don't have to rush nervous patients through the system and it allows us the time to explore every option and ensure every patient feels in total control every step of the way.   Our process includes understanding every patient's individual fears and concerns, along with any time that's required to help them feel more confident and relaxed.  It's an important concession that's priceless to many patients and which NHS dentists often struggle to afford.
Emergencies
As a practice, we appreciate that accidents and emergencies arise and as a result 'Dr Ash' has a strict policy of keeping a number of 'spare' appointments available each week to make room for such occurrences.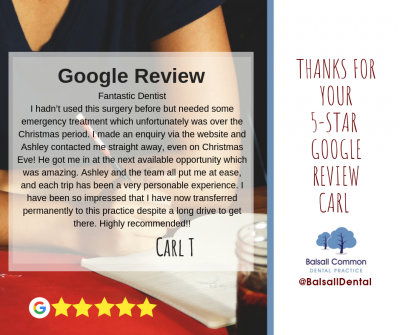 But good old Ash will still help if whenever possible even when we're busy: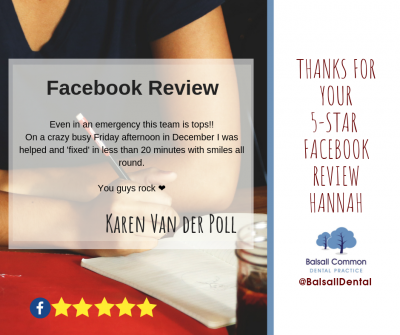 Discover More Insights in our extensive Reviews Library
Here Balsall Common Dental Practice, we've always believed that the only people whose opinions really matter are those who come to us for help. So please take a look at our reviews page for a thorough insight into how we help people with every aspect of dentistry:
Claim Your FREE Discovery Session (normally £95)
We are currently running this offer in conjunction with our advert in the Summer Edition of the Bugle Magazine article.
Claim your free 30-minute consultation (worth £95) which we're making available to New Patients interested in exploring any of our services including general dentistry, cosmetics, whitening, orthodontics, clear aligners, veneers, implants, Somnowell (sleeping aids) or Facial Rejuvenation.
Simply complete this form and we will email you a voucher to claim this offer.
Or skip the form and apply here using Facebook Messenger:
Or you can book your FREE consultation by calling our reception directly on 01676 938611, quoting "Bugle Summer 2019".