Learn More about Dental Phobia

Are you afraid of dentists?
Then you have dentophobia. Dentophobia is closely related to iatrophobia (fear of doctors), and trypanophobia (fear of needles). Dentophobia is a common problem for people of all ages. Many people have this phobia. It's usually due to a bad experience. Many times, it dates back to childhood.
It's a serious problem, because dentophobia can cause people to postpone their visits to the dentist. If they have dental problems, like tooth decay and cavities, those will worsen. When they finally have to visit the dentist, treatments will be more invasive and expensive.
The good news: you can get past this phobia. With a kind, sensitive dentist, you can feel confident and comfortable about getting dental work done. Find a dentist who will help you get past your fears, and make the whole experience pain-free.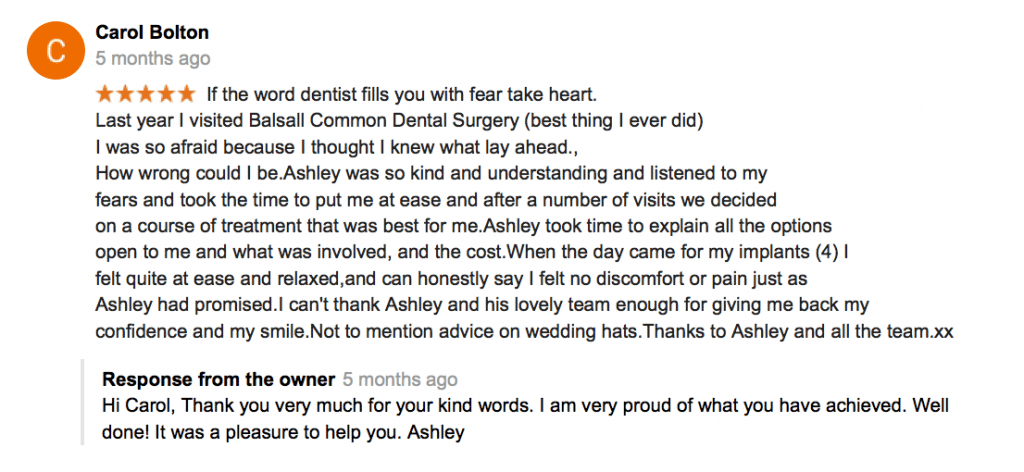 Dentophobia affects everyone differently. What do you fear the most?
The Dentist – Dentists are often considered to be cold and unfeeling and even sadistic at worst. The phobia is greater for people who have had a nasty experience with a previous dentist. That's when you need to find a kinder dentist!
Pain – For a long time, dentistry was associated with great pain. However, the advent of painless dentistry has changed things. With modern anaesthetics, dentistry really should be comfortable!
Numbness or Gagging – You might not like the experience of a numbed mouth, feeling you have difficulty breathing or that you choke. Here communication is the key. We agree a 'stop' signal with our patients so they can raise a hand to let us know that they need a rest.
Sounds and Smells – Some don't like these aspects of the dentist's office — especially the sound of the drill. Many people bring along headphones and play their own music or audiobooks to help them to relax.
Needles – A good number of people fear needles. We have a needle free anaesthetic delivery system which can avoid the need for needles in many circumstances.
We can help you to conquer your Dentophobia and achieve your dental goals, whether that is whiter teeth, fresher breath or being able to eat without pain.
Here at Balsall Common Dental Practice we offer 3 solutions for nervous patients:
Tender Loving Care
We find that anxiety usually reduces and disappears when people get to know us. We try to listen to your concerns so we can try hard to avoid the things that you find difficult. We try very hard to make treatment pain free. We even have needle free local anaesthetic in many situations.
Inhalation Sedation (Happy Air)
This is a conscious anaesthetic. You remain in control and awake but relaxed, sedated and with much less anxiety.
A small rubber hood rests on your nose so you can breathe a mix of nitrous oxide (laughing gas) and oxygen. Nitrous oxide is a safe and effective method of relieving anxiety and discomfort. It is fast acting, with a quick recovery time and no side effects.
We can control the depth of your relaxation to suit your levels of anxiety but you will remain able to talk normally at all times. You will have a pleasant feeling of warmth, security and numbness whilst we care for you.
The effects wear off quickly after treatment is complete and you will feel normal within two minutes and are safe to drive after 5 minutes.
Intra-Venous Sedation
This is a much deeper level of sedation for people who need it. Sedation medicine is applied via an injection on the back of your hand. You will quickly drft into a deeply relaxed state of sedation. Afterwards you will have virtually no memory of the treatment.
Free Consultation
To download a voucher for a free consultation to discuss any of the issues covered; click below.
Free Consultation